Founder and designer Hubert Gesser, has traveled the globe in search of nature's most beautiful treasures. Throughout Africa, South America, the Far East and further, Hubert looks for the best the world has to offer in a spectrum of gemstones from classic blue sapphire to exotic Paraiba tourmalines.
Brazilian born and raised Hubert came to the United States at a young age attending the University of California, where he earned a Bachelor's of Science degree for mechanical engineering. Hubert worked for a manufacturer producing aerospace and prototype missile parts, managing a 60-member staff.
During that time, Hubert met someone who traveled the world sourcing and importing beautiful gemstones. and, without hesitation, decided to invest his then entire net worth into loose gemstones which he could resell and distribute.
Eventually he learned firsthand the art of buying and faceting rough gemstones, as well as the intricacies of handcrafting fine, high quality focused jewelry. This decision inspired a career change that he would build into a successful gem lapidary house and jewelry manufacturing company known today as Hubert Inc.
Gemstones and jewelry might seem like a far cry from his background in engineering, but Hubert notes that his field of study gives him strength in problem solving, which has served him well, particularly when it comes to custom designs that account for more than 50 percent of his business.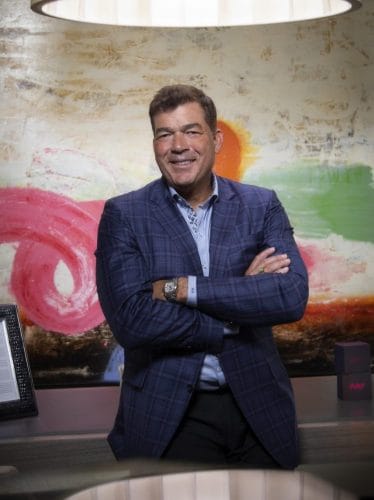 Hubert with his creativity, quickly learned how to develop a keen eye for beautiful color in both the most commonly known gems like amethyst, to rarities like natural color cherry topaz and alexandrite. Moreover, he soon realized that more clients wanted finished jewelry, motivating him to build his skills as a designer and surround himself with expert cutters, goldsmiths and wax carvers to get the job done in his Los Angeles based studio.
All of Hubert's designs are very artistically and meticulously constructed, from fun fashion pieces, to one-of-a-kind designs. He is one of the few jewelers involved in every aspect of jewelry making.
In addition to the beauty in the gems he sources, Hubert has remained fascinated by the interesting people he meets in the business, from artisan miners in the back country of Brazil, to royalty such as the Queen of Spain. The stories surrounding gemstones build a lifetime of memories and symbolism for anyone who comes in contact with them.
Hubert Jewelry primarily serves customers in the United States, although about one third of its business is abroad. The company's range is vast, accommodating the desires of a broad range of retailers, enthusiasts, and collectors with quality gem-set jewelry that provides great value at every price level offered.
Hubert finds inspiration all around himself, and the freedom he gives to each designer to be bold and creative, results in jewelry that never gets boring. When combined with the customer's idea, there is no limit to what can be accomplished.